English : World Days Calendar : March
primaire
2e cycle
3e cycle
secondaire
1e cycle
2e cycle
---
International Women's Day : March 8th
Description of the day :
International Women's Day
The International Women's Day is a chance to celebrate the progress that has been made towards equality for women, and to examine the challenges that they must overcome in contemporary society. Everywhere around the world, groups organize activities highlighting the struggles that still exist to bring about true equality between the sexes. This day is celebrated in ways specific to the country in which it is being celebrated, since women's circumstances from one region to another can be far from similar.
The Day's Origins
On March 8th, 1917, female workers in St-Petersburg marched in the streets to demand bread, and the return of their husbands by the Russian government. The men had been sent to fight during the First World War, and more than two million were already dead. The women were quickly joined by a mass of workers that went on strike. The movement grew in strength and led to the Russian Revolution of 1917. The governing monarchy was replaced by a communist government. In 1921, Lenin, the chief of state, decreed March 8 « Women's Day ». However, it wasn't until 1977 that the International Women's Day was officially recognized by the United Nations.
Remarkable Progress
The fight for women's rights has blossomed during the past century. Before, women were considered housewives at best, and subalterns with no rights at worst. Following the great revolutions that engendered the modern world, women organized themselves bit by bit and struggled for hard-won rights that we consider fundamental today. For example, we must remember that Quebecois women didn't win the right to vote until 1940! In most developed nations, more women attain higher education levels than men. In many places, they also have the right to terminate unwanted pregnancies, and to hold the same work title as their male counterparts. Being able to work has enabled women to gain economic independence, and this freedom permits them to take their rightful place in society. Today, they are much less dependent on men, and participate in all aspects of public life.
Still An Important Day
Even though occidental women have the same right to education as men, the situation is very different in less affluent countries. 120 million children do not have access to education; approximately two-thirds are girls. It has also been shown that, even though women are more highly educated than men, generally they earn less than their male counterparts. This issue is among the issues that have rallied women the most during the last few years; they are still fighting for equality in remuneration in many professional domains. Furthermore, note that the presence of women in all of the Parliaments around the world is still lower than that of men. In the poorest countries, the fight continues for the right to education, the elimination of violence against women, and against other flagrant injustices that result in women being deprived of their rights. For example, in many countries, little girls are often less welcome than boys. In China and India, little girls are often killed, or sold to sex traffickers who make their lives a living hell. These dramatic situations are but a few examples of the ongoing struggle for equality by women around the world.
A Multitude of Activities
Each year, numerous activities are organized around the world in celebration of International Women's Week and International Women's Day. On this Day in 2005, the Women's Global Charter for Humanity was created. This document calls for the creation of a world built on the following five values : equality, liberty, solidarity, justice, and peace. To obtain a list of activities planned for International Women's Day 2008, you can contact any one of the feminist organizations in your area, or visit Status of Women Canada's website.
Pedagogical Tools :
Senegal: The Ongoing Challenge of Women's Rights
What you can do :
Action 1
In Quebec, often we have the impression that the fight for equality between the sexes was won long ago. However, to this day there remain many cases of injustice based on inequality between women and men. Conjugal violence and disparities in earning power are two examples of abusive situations wherein women are often the victims. International Women's Day is an opportunity to raise awareness of these inequalities in order to fight against them in our daily lives. Take advantage of this day of reflection to gain more information about the circumstances of Quebecois women. For example, you can visit the Conseil du statut de la femme's website. Take the time to inform yourself, and share your new knowledge with your friends and family. Through increasing the number of informed persons regarding the circumstances of women, the possibility of eliminating all forms of inequality between the sexes increases.
Action 2
Please visit the Fédération des femmes du Québec's (FFQ) website. Within the section « Mobilis-Action », you will find available means to support women's rights while also having access to information regarding how to participate in FFQ's solidarity movements (in French only).
Action 3
Be wary in your immediate surroundings. Avoid using a sexist behaviour towards women. Would you see any kind of discrimination addressed to women, it is advised to react calmly and wisely, displaying through common sense equality between sexes. Explain on what there is no compromise and why.
---
World Consumer Rights Day : March 15th
---
French-Speaking World Day : March 20th
---
International Day for the Elimination of Racial Discrimination : March 21st
Description of the day :
International Day for the Elimination of Racial Discrimination
In 1966, the United Nations proclaimed March 21st the International Day for the Elimination of Racial Discrimination, in memory of those who were killed or wounded at Sharpeville, South Africa, during a non-violent protest against apartheid (a political regime that granted all power to Whites). The first Canadian national campaign for March 21st took place in 1981.
First of all, what is racism?
Racism is defined as "a belief in the superiority of a particular race"[1]. All behaviour that derives from this belief/ideology is also considered to be racism. This way of thinking has been the source of the worst crimes against humanity, notably in Nazi Germany, in Rwanda, in Armenia and currently in Darfur, where genocides have been committed. Likewise, there have been millions of slaves and racial segregation in the world due to racism.
Did you know that there were slaves in Quebec?
In fact, since 1688, the governor of New-France demanded that the king of France supply him with "boatloads of negroes" for the cultivation of land, the clearing of forests and the construction of houses. The slaves arrived by boat like a herd of beasts; if they were sick, they were simply thrown overboard. The Blacks were bought over by religious communities, members of the clergy, officers, merchants and mere inhabitants. It was in 1797 that slaves were sold for the last time in Quebec. The Black Slaves and French-Canadians were similar in many ways, one being their desire to be liberated from oppression. In 1793, Blacks protested slavery in the streets of Montreal and were joined by French-Canadians who supported them. In 1837, some Blacks participated in the uprising of the Patriots, driven by the desire to get rid of the corrupt colonial government.
What is racial discrimination?
In Quebec and in Canada, many people are victims of prejudice as much at school as at work, while house hunting, or in the street simply because their skin colour is not white. Did you know that the value of a house decreases when it is inhabited by a Black, Asian, Aboriginal, or Middle-eastern family? Did you know that the value of their neighbour's houses decrease as well? Did you know that certain employers refuse to hire people of colour under the pretext that they are lazy or even dangerous? Did you know that racist jokes that you hear at school, at home, or in the street help to reinforce the racist mentality? All of this is racial discrimination. Fortunately, in Canada, we are all protected under the Canadian Charter of Rights and Freedoms, the Canadian Human Rights Act, the Canadian Multiculturalism Act and the Employment Equity Act. With these laws, the state protects individuals against racism and allows them to appeal to tribunals if they think that they have been victims of discrimination. This system does not exist in every country. Unfortunately, despite all of the laws and charters, racial discrimination remains a very real phenomenon in the lives of many people.
Here are some examples of racist behaviour that you may have witnessed:
· Verbal violence, verbal abuse, insults, and inappropriate jokes;
· Rejection, exclusion from a group (the refusal to play with or to associate with members of certain groups);
· Physical violence and mistreatment, intimidation, fights;
· The refusal to assign a job or role or to grant a reward or recognition;
· Signs of anger or of resentment, even if it manifests itself in a non-verbal manner;
· A haughty attitude towards a group;
· Vandalism of others' private property. Remember, the fight against racism starts with you. Racial discrimination concerns you too!
| | |
| --- | --- |
| | Remember, the fight against racism starts with you. Racial discrimination concerns you too! |
[1] The Canadian Oxford Dictionary 2001
Pedagogical Tools :
Cultural Diversity - Lesson Plans
What you can do :
What you can do on March 21st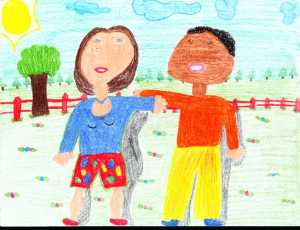 You could take advantage of the International Day for the Elimination of Racial Discrimination to contribute to building a more just world by organizing an activity at your school. Here are some suggestions for activities; however you can always invent others. The imagination has no limits!
Ask your visual arts teacher to organize an exhibition of student drawings on the theme of racial discrimination. (This art show idea could also be made into a contest).
Organize an improvisational exchange with themes that touch upon racial discrimination.

Ask your principal to dedicate an afternoon to activities about racial discrimination.

Initiate a role-play game in your class during which each person, for one minute, has to imagine themselves in the shoes of a person who is the victim of racial discrimination.

Gather information on different cultures because ignorance is the first step towards prejudice which in turn leads towards racism and discrimination.
If you are between 12 and 18 years old, and you are interested in making a video about racism, you can participate in the national video competition, Racism. Stop It!. This competition is part of Canada's March 21 campaign against racial discrimination. You will find all of the necessary information to participate on the Canadian Government's website, at the following address.
---
World Water Day : March 22nd
Description of the day :
World Water Day
| | |
| --- | --- |
| Each year, the 22nd of March is dedicated to what is without a doubt the most critical life-giving resource in the world; water. It may seem paradoxical to speak of a shortage of water; with 75% of the earth's surface area covered by water! The planet, when viewed from outer space, appears blue. Nevertheless, if one subtracts the volume of water that is held in the oceans, glaciers, snow coverage, groundwater that is more or less accessible, and humidity in the air and earth, there remains only 0.3% of water that is readily available for human consumption[1]. Thus, World Day for Water's purpose is to raise awareness of this challenge, and to remind everyone that drinkable water is a precious resource that is threatened, and that must be preserved. | |
The General Director of the Food and Agriculture Organization (FAO), M. Jacques Diouf, spoke of water shortages as the challenge of the 21st century. He went to say : "As population grows and development needs call for increased allocations of water for cities, agriculture and industries, the pressure on water resources intensifies, leading to tensions, conflicts among users, and excessive strain on the environment."[2]
Immesureable Consequences
The consequences of this phenomenon are grave even now: no less than 5 million people die each year due to poor water quality, or simply because they don't have access to drinkable water. Every 8 seconds, a child dies because of a lack of drinkable water[3]. Furthermore, combined with stunning economic and demographic growth, statistics show that we would need 16 planets to meet humanity's 'needs' if the North-American way of life were adopted around the world[4]. Between 1950 and 1990, water-use grew twice as fast as the population growth-rate and if this trend continues, water demand will exceed supply by 2030[5] ; such is the impact of economic growth and waste.
Water Privatization
In numerous countries around the world, private enterprises and politicians are discussing water privatization. Once water is privatized, it becomes a resource that is controlled by private companies who then sell it to inhabitants. The sale of bottled water is an example of water privatization. Yet, water is a natural resource that is essential to life and to which everyone has a right: It is part of our collective inheritance.
Canada possesses a quarter of the world's drinkable water reserves[6]. In order to hold off covetous private companies in Canada, the United States, and Mexico, elected members of the Canadian Parliament adopted a Bill to protect Canadian water resources from international trade through NAFTA[7].
Citizens' Call to Action
Water-related challenges force us to question our consumption habits of this precious resource. Let's manage our water resources more responsibly, and in solidarity so that water can be accessible to everyone!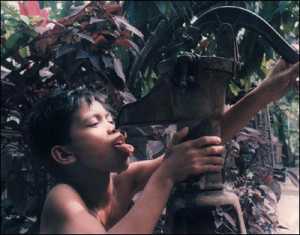 _______________________________
Source : http://www.eausecours.org/grand%20public/1aouverturepublic.htm
[1]Martine Le Bec-Cabon. Menaces sur la planète bleue. Available at:
http://h2o.net/magazine/urgences/enjeux/humanitaire/planete/francais/planete_1.htm Consulted June 21, 2007.
2World Water Day 2007: A Great Success…Thanks to You! Available at :
http://www.unwater.org/wwd07/flashindex.html Consulted June 21, 2007.
[3] Martine Le Bec-Cabon. Op cité.
[4] Mark Burch. La voie de la simplicité pour soi et pour la planète. Montréal : éditions Écosociété. 2003. p.111.
[5] Martine Le Bec-Cabon. Op cité.
[6] Claudine Magny. Eau potable à vendre? Disponible sur : http://www.radio-canada.ca/nouvelles/dossiers/eau/index.html Consulté le 21 juin 2007.
[7] Le Conseil des Canadiens appuie le vote pour exclure l'eau de l'ALÉNA. Disponible sur : http://www.canadians.org/francais/medias/eau/2007/06-juin-07.html Consulté le 21 juin 2007.
Pedagogical Tools :
Bolivia: Water, a Common Good
What you can do :
Take Action to Save our Drinkable Water Resources
Action 1 : By eating less meat, you can help reduce the level of water consumption. Raising livestock requires 13 times more water than is required to raise vegetables that can be substituted for meat (ex. nuts). Lowering meat consumption worldwide will allow more efficient use of declining per capita land and water resources.
Action 2 : Click on the following link and view a powerful slideshow that you can use to raise awareness regarding the challenges that surround access to drinkable water.