English : World Days Calendar : February
primaire
2e cycle
3e cycle
secondaire
1e cycle
2e cycle
---
Black History Month : February
---
International Development Week : 1st complete week of February
Description of the day :
International Development Week
Each year, International Development Week takes place during the first week of February. It's a chance for people to learn more about the projects and initiatives being spear-headed by the international development community in Canada. In 2008, it will take place from Sunday February 3rd, until Saturday February 9th.
What is International Development Week?
According to the Canadian International Development Agency (CIDA), this week offers Canadians an excellent opportunity to:
- Learn about the role they play in international development;
- Learn about how people live in developing nations;
- Discover the actions they can take to become true citizens of the world, by actively taking part in international development.
Each year, a specific theme is featured. Last year's theme was "Equality between women and men. To have a voice. To have a choice."
What is CIDA?
CIDA was founded in 1968 to manage public funds that are earmarked for international aid. Its mandate is clear: reduce poverty, promote human rights, and support sustainable development. CIDA works in concert with development partners in Canada (non-governmental organizations) and abroad, as well as with fragile or crisis states that are selected for a project. CIDA's central administration is located in Gatineau, Quebec, and regional offices exist across the country in order to facilitate administration with partner organizations.
What are CIDA's international development projects and accomplishments?
To fulfill its mandate, CIDA gave itself objectives that it must meet in its work with developing countries. Here are CIDA's five objectives, and examples of projects that are linked:
Equality between Men and Women
According to the UN, Canada, through CIDA, is the only country to have applied the concept of equality between men and women in its many projects in Egypt.
Environmental Protection
The Canadian International Development Agency has funded numerous projects that help to protect the environment, such as a solar panel project in Cuba. In collaboration with Comité de Solidarité / Trois-Rivières, CIDA has financed the installation of solar panels in 150 medical clinics in Cuba to provide them with electricity.
Accessibility to Education
Education is an important part of CIDA's mission. Among other achievements, this has increased the number of children enrolled in school by 6.8 million in certain African countries such as Tanzania since 2000. In Mozambique, more than 3.5 million students received school books.
Private sector Development
Since 2003 CIDA has financed a microcredit program in partnership with the Afghan government. In 2008, 300,000 destitute people from rural and urban regions benefited from $70 million. Note that no bank was willing to believe in these impoverished people who, nevertheless, reimburse their loans at 98% rate.
Humanitarian Aid
CIDA supplied emergency aid to victims of the tsunami that ravaged the shores of the Indian Ocean. The money that we invested provided food to 1.3 million people through the World Food Program, and the international community. For more information on CIDA's many projects, you can visit the following website: ACDI/CIDA.
Source : ACDI/CIDA
Pegagogical Tools :
What you can do :
Action 1
You can visit the ACDI/CIDA website to learn about international cooperation and development projects that the Canadian agency and its partners have implemented. This way, you'll be up to date on what's happening and you'll be able to follow the progress of all the cooperants.
Action 2
Each year, many young Quebecers travel abroad to work on various initiation projects in the international cooperation sphere. Non-governmental organisations (such as CS/TR, Plan Nagua, Development et Peace) sponsored through partners like the Canadian International Development Agency (CIDA) and Québec Sans Frontières (QSF) provide valued assistance to the trainees already committed to their projects abroad. You may refer yourself to these NGO's websites, gather more information on the subject and perhaps decide to build up a cooperation project in the near future.
Action 3
Take part in the Millennium Goals Campaign for global development assistance. In order to know more about these goals, please visit United Nations' website at the following address. Moreover, you may request the "Expo Photo" or make known the International observance calendar of activities at your school. Both these projects were thought of by the Comité de Solidarité/ Trois-Rivières.
---
World Wetlands Day : February 2nd
---
World Cancer Day : February 4th
---
International Day against Female Genital Mutilation : February 6th
---
International Child Soldier Day : February 12th
Description of the day :
International Child Soldier Day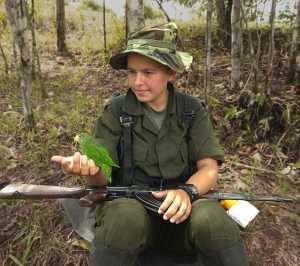 Every year, the International Child Soldier Day is observed on February 12th. The United Nations (UN) estimates that in 2007, there were 250,000 child soldiers fighting in over 30 military conflicts around the world. International Child Soldier Day was created in order to educate people about this world problem, and to suggest ways in which we can help child soldiers.
What is a child soldier?
According to UNICEF, a child soldier is :
A person, male or female, less than 18 years of age;

Who is a member of a government army or armed group (whatever their role in the organization);

And who is recruited voluntarily or by force.
This definition is very broad; accordingly, a child soldier is not only a child that fights with a weapon. He can also be 'a fighter, a miner, a deminer, a scout, a spy, a porter, a guard, a sentinel, a cook, or a sexual or domestic slave, etc.'[1][1]
| | |
| --- | --- |
| | The phenomenon of child soldiers is surprising and shocking, but it is far from being new. In fact, it has existed for hundreds and hundreds of years: children were recruited in Sparta during the 4th Century B.C; during the middle ages, future knights started their military training at the age of 7; and child soldiers also served during the U.S. War of Independence during the 1860s, to name just a few examples. However, the phenomenon has grown significantly since the 1990s with the arrival of large quantities of light arms in conflict zones. As their name indicates, these weapons are much lighter than conventional weapons, and so are consequently more easily manipulated by children of 10 years of age or less. |
What encourages armed organizations to use child soldiers?
Child soldiers are numerous, vulnerable, obedient, and easily replaceable.

They are cheap to feed.
They are very agile over difficult terrain.

They seem harmless, and so make good spies.

They help to fill the ranks of an army as the conflict drags out.
For all these reasons, armed groups in Asia, Africa, Europe, South-America, and the Middle-East enrol child soldiers either by recruiting volunteers, or by force. In 2007, of the 250,000 child soldiers in the world, there were 10,000 in Colombia, 20 to 30,000 in the Democratic Republic of Congo (DRC) and 70,000 in Myanmar.
Disastrous Consequences
Being a child soldier is not easy. In fact, it's soul-destroying. We are talking about children who literally have had their childhoods stolen from them, along with their right to education. According to Amnesty International 'Testimony abounds from children who were drugged before being sent into combat, in addition to often being the victims of abuse and acts of severe brutality. Also, girls are often used to sexual ends; they are generally assigned to a chief and sometimes are victims of gang rapes.' It is easy to imagine that they will bear the psychological and physical scars of their experiences for the rest of their lives.
A breath of hope
The date for the International Child Soldier day was not chosen by chance; it coincides with February 12th, 2002, the day the Optional Protocol to the Convention on the Rights of the Child on the involvement of children in armed conflict (http://www.ohchr.org/english/law/crc-conflict.htm) was brought into effect. The document was prepared by the UN. It prohibits the use of child soldiers around the world, and stipulates that the minimum age of compulsory recruitment and participation in direct conflict must be 18 years of age for states that are party to the protocol. In May, 2006, 107 countries ratified the protocol and incorporated it into their national law.
| | |
| --- | --- |
| | Demobilization's world map, made after the 2005 of United Nations on war children's report. |
Furthermore, diverse branches of the UN, such as UNICEF and UNHCR, in collaboration with non-governmental organizations (NGOs) are taking charge of operations to demobilize and demilitarize children, which are producing significant impacts. According to reports in 2005, 3,820 children were demobilized in Afghanistan, 2,260 in Burundi, 5,000 in the Democratic Republic of the Congo, more than 10,000 in Liberia, and this in 2004 alone. Reintegration programs that reunite children with their families and reinsert themp in their communities are being added to this course of action.
[1] Cérium, université de Montréal.
Pedagogical Tools :
Ethiopia: Armed Conflict and Children
What you can do :
Take Action 1
Recently, two United States senators proposed a law, The Child Soldier Prevention Act 2007. If adopted by the American Congress, it will result in the cessation of all US military assistance to countries that engage child soldiers in their conflicts. At the moment, the United States provides weapons, equipment, and other military aid to countries that have children as soldiers in their armies or in military groups taking part in the conflict. To support The Child Soldier Prevention Act 2007, you can send a letter to the American Congress via the following website.
Take Action 2
In your everyday life, avoid buying or giving toys symbolizing violence, such as plastic firearms or books praising war. Instead, choose non-violent games geared towards creativity. Remember that war is definitely not a game and that a great many children die as victims of war or are forced to fight in wars with real weapons.
---
Nonviolent Resistance Day : February 20th
---
World Day Of Social Justice : February 20th
---
International Mother Language Day : February 21st